It was July of 2016 when I first casted the AQUOS series fly rods. At that time, I was working in a fly shop and still entertaining the idea of competitive fly fishing. Also, at that time, I thought that a fast action rod was the best thing for me as it allowed me to carry more line when fishing full sinking fly lines, and casting further meant more opportunity to present a fly to a fish.
I casted the 10 foot 6 weight and 7 weight in the grass, and naturally, had to take a little time to settle in as I was so in tune with my "broomstick" rod of choice. I was intrigued and somehow weaseled out of work the next day so I could jump in the boat and fish one of my local lakes where the browns and rainbows are plenty and the occasional brook trout may show itself too. It was the perfect place to test the Syndicate AQUOS against my current rod to see which would perform better in a loch style situation. My thought process changed that day and I ditched the fast action, "broomstick" style rod forever.
What I realized that day is that casting far may offer more time for a fish to see my fly, but it also has more ability to "bounce" fish due to the stiff, unforgiving tip section of the rod I was using. The AQUOS rod has the backbone to handle the sinking lines no problem, and once a fish is on, it tends to stay on. This is because the tip of the AQUOS rod is softer and more forgiving, which allows it to absorb the head shakes and direction changes better than a stiff tip section, while also protecting smaller tippets when necessary. The AQUOS 7 weight became my rod of choice for the competition and loch style fly fishing game. To this day, it is my go-to Stillwater rod from high mountain lakes full of cutthroat, to plains lakes teeming with carp and bass.
I still try to fish lakes as often as I can, but the majority of my fishing now happens in drift boats or wade fishing large rivers. In a given day of fishing, I might be nymphing, fishing streamers, or casting a large, foam bodied dry fly with one or two nymphs under it. To set out with one rod for this, I grab my 6 weight AQUOS. The 6 weight has the power to throw big streamers and heavy nymph rigs, but it also has the finesse ability to cast the wide loops necessary for keeping long dry-dropper-dropper rigs tangle free during turnover. I have even lengthened my leader and thrown little blue wing olive dry flies with it. To be fair, I would rather have my 10 foot 4 weight P2 Pipeline rod or the 9 foot 5 weight AQUOS rod for that scenario, but it does work well.
The AQUOS lineup proved to me to have something for every fishing situation when the 9 foot 9 weight was added to the lineup. In the winter and spring of 2019, I got the opportunity to fish in Louisiana, Mexico, and the Bahamas. For all three trips, I fished the 9 weight AQUOS exclusively.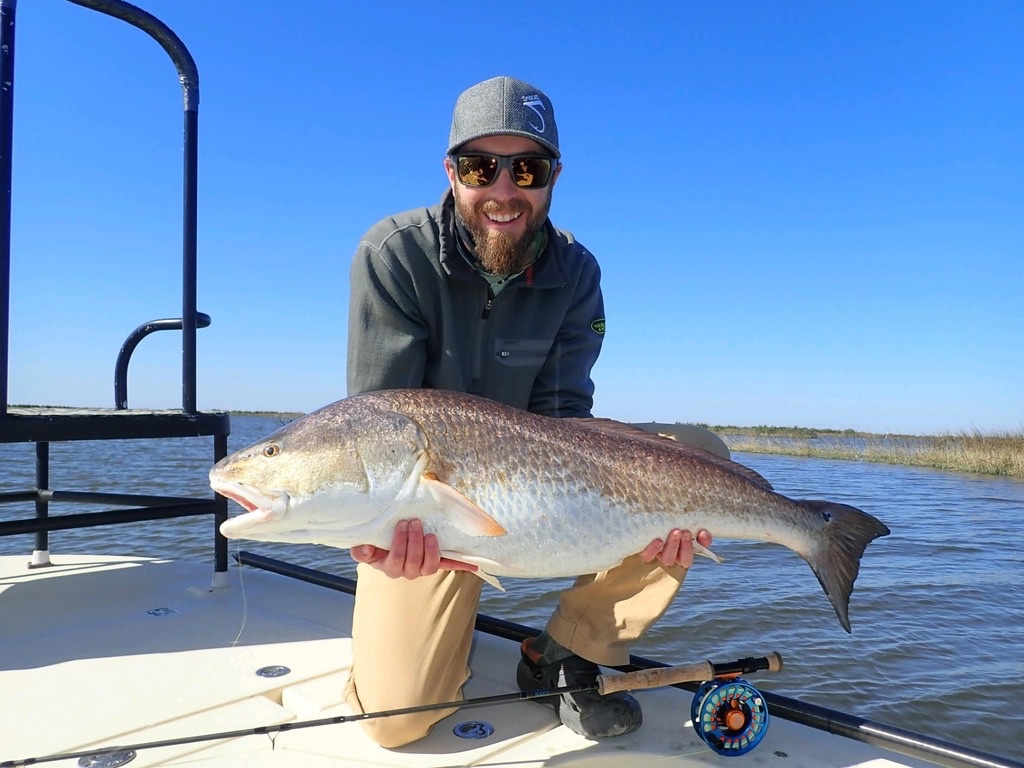 It was my second trip to Louisiana to chase redfish. On the first trip, I brought along my usual fast action, again, broomstick style fly rod like I was made to believe was the only way to fish the salt. It worked great and we caught plenty of fish, but I didn't realize there was an issue until I went back for my second trip. Many shots at redfish happen close to the boat, which is exactly where a fast action rod struggles, loading at close range. I had no problem making the longer casts, but the AQUOS 9 foot 9 weight was far better at loading up for those close range shots than the fast action rod was. I sure was glad I had it when I landed the perfect presentation less than 30 feet away to bring in my personal best redfish.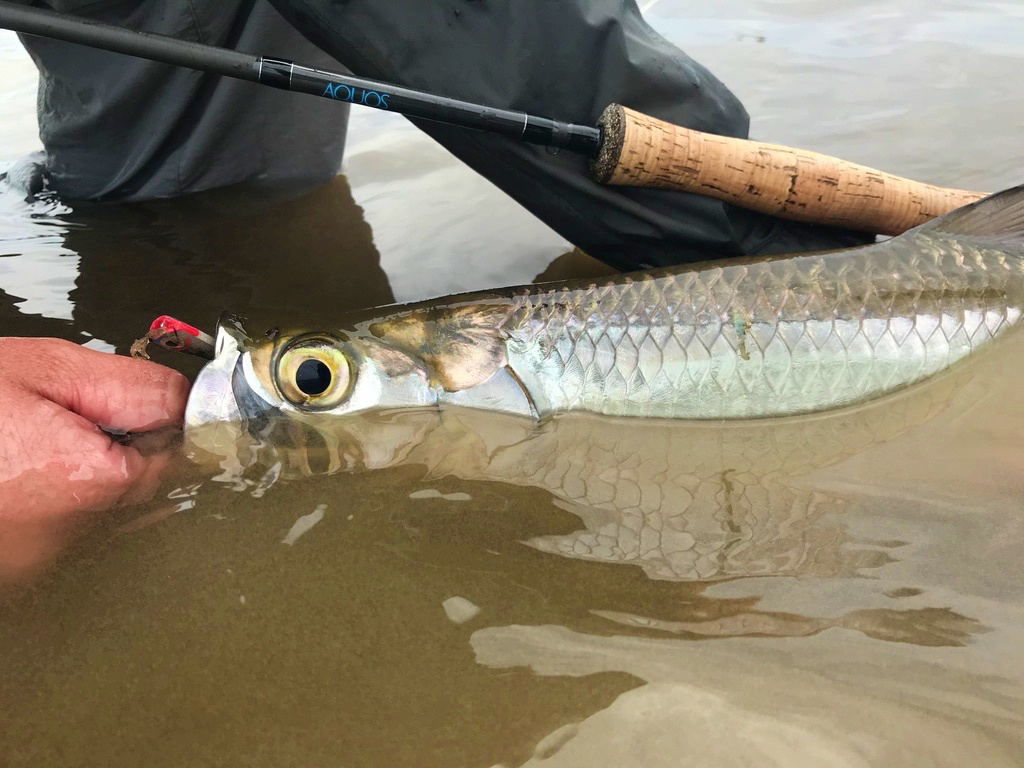 In Mexico and the Bahamas, it was the same situation, close range shots were way easier with the AQUOS rod than with my former rods. On top of that, it was way easier to land a fly next to a pod of bonefish without blowing up the school with a splash of fly line and a fly. I still have yet to fight a permit with the AQUOS rod, but I sure have casted to a enough of them only to get shunned or miss a hook set. That being said, countless bonefish, snook, jacks, trigger fish, lemon sharks and even juvenile tarpon have fallen victim to the 9 weight by this point and the list will keep growing.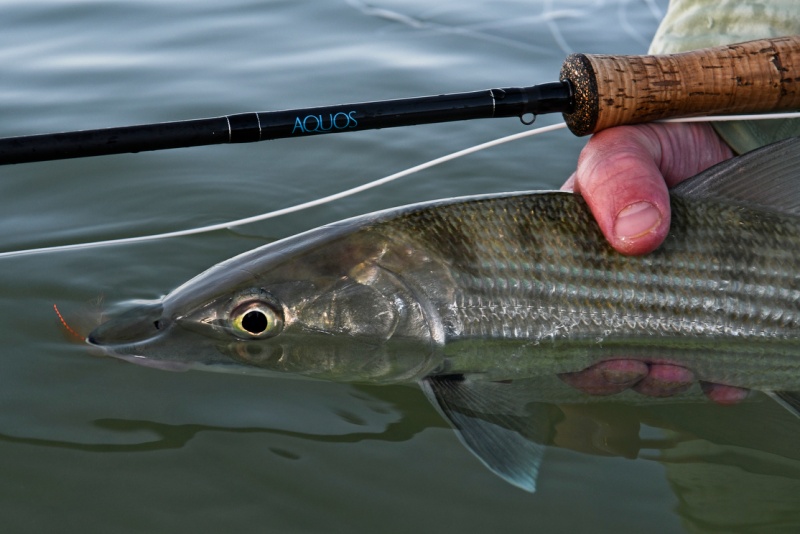 What the AQUOS rod series has proven to me is that it encompasses the perfect combination of finesse and power to be the perfect rod for each situation it was designed to cover. From delicate dry flies on the 5 weight, to musky or steelhead on the 8 weight, and even to saltwater species on the 9 weight, there is a good chance you can find the right AQUOS rod for most fishing endeavors.